Movie & TV Reviews
Reviews from Video Magazine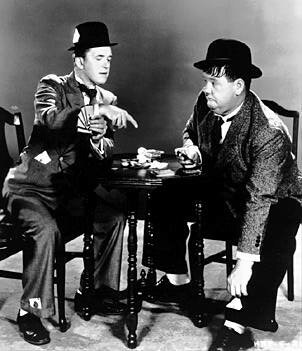 MOVIE & TV SERIES REVIEWS
from VIDEO MAGAZINE
Action/Adventure
MOVIE & TV SERIES REVIEWS
By TOM SOTER
from VIDEO MAGAZINE, 1991-1996
THE TARZAN COLLECTION
1993 comp. B&W. Tarzan Escapes (1936), Tarzan Finds A Son (1939), Tarzan's Secret Treasure (1941), Tarzan's New York Adventure (1942). Johnny Weissmuller, Maureen O'Sullivan, John Sheffield, Barry Fitzgerald, Cheetah; dir. Richard Thorpe. Digital mono. (NR) 420 min. CLV. 8 sides. $99.98. MGM/UA.
Edgar Rice Burroughs, the ex-pencil-sharpener salesman who created Tarzan of the Apes, knew his idea of a noble wild man living in a jungle paradise was hokum – "[An apeman] would probably have B.O., Halitosis, and Athlete's Foot, plus a most abominable disposition" – but Tarzan, Lord of the Jungle, struck a public chord, appearing in countless comic strips, radio shows, plays, and the world's longest-running movie series.
The best known actor in the role, Olympic athlete Johnny Weissmuller, played Tarzan for 17 years, and is featured here in four of his six MGM adventures. Although the simple-minded stories make ERB's sophisticated jungle man into a primitive boy toy, a hunk with no brains ("Me Tarzan") but a lot of brawn, the sexy, tawny Weismuller's appeal is obvious: after all, who could resist a guy that wrestles lions before breakfast, outswims alligators after lunch, and then rides elephants into the sunset?
The high-budget formula films, which re-use plot elements and stock footage shamelessly, all involve white explorers intruding on Tarzan's jungle heaven in search of hidden treasure. At the climax of each, the apeman arrives with a flock of elephants to save spouse Jane from torture by savages. The best of the lot is Tarzan's New York Adventure, which cleverly inverts the formula by having the apeman play intruder in New York City ("stone jungle"). Before the story ends, Tarzan has made monkeys out of cops and robbers alike, leaping across city rooftops and off the Brooklyn Bridge with a breathtaking, Olympian ease. There are also wry moments of social commentary (Tarzan on a night club: "Smell like Swahili swamp. Why men stay here?" Jane: "It's called having a good time"), amusing antics by Cheetah, and, of course, the elephants stampede in the end. 1993
CAPTAIN BLOOD

1935. Errol Flynn, Olivia de Havilland, Lionel Atwill, Basil Rathbone; dir. Michael Curtiz. Digital sound, 119 min. CLV, 2 sides; CAV, 1 side. MGM/UA.
Errol Flynn made his dashing debut in this swashbuckling, silly epic, the first of many pairings with lovely Olivia de Havilland. As the energetic Dr. Peter Blood, he is convicted of a crime he didn't commit, and soon becomes a kind of Robin Hood of the Seven Seas, robbing from the British oppressors and doling out the proceeds to the poor (his men). The plot – a Depression-era gangster movie in pirate garb – isn't much, but the daring-do is fine, a prototype for The Adventures of Robin Hood (1938), in which Flynn, de Havilland, and director Curtiz went through the same paces to much better effect. The best moments come from Basil Rathbone, who gives a delightfully hammy performance as a lecherous French swordsman who (naturally) has a duel with Flynn on the shores of a remote island. In real life, Rathbone was actually the better swordsman, but in a movie with a hero named Captain Blood, guess who wins? 1992
Cartoons
MOVIE & TV SERIES REVIEWS
By TOM SOTER
from VIDEO MAGAZINE, 1991-1996
THE GOLDEN AGE OF LOONEY TUNES: 70 COMPLETE UNCUT CARTOONS
1931-1948. Bugs Bunny, Daffy Duck, Elmer Fudd, Porky Pig; dir. various. Digital mono. (NR). 8 hours, 51 minutes (5 two-sided discs). MGM/UA.

Elmer Fudd and that "scwewy wabbit" are falling off a cliff. They've almost hit bottom when Bugs Bunny pulls out a bottle of "Hare Tonic." He drinks it, stopping his descent in mid-air. The bottle's label makes clear why: "Guaranteed to stop falling hares."
Outrageous puns, zany action, and cwazy characters - yes, it's Looney Tunes time. And if anyone doesn't know Bugs and Daffy and their patented brand of controlled chaos, take a peek at this gloriously reproduced, five-disc collection of visually absurd and verbally rich masterpieces of anarchy. Each disc is arranged by topic, starting with an early musical from 1931 when Warners was simply interested in keeping up with the Disneys (Bosko, the charmless lead, is Mickey Mouse with pointed ears). Watching the Warners style evolve is revelatory, as the directors experiment with parodies ("Corny Concerto" mocks Fantasia), heart-warmers ("Sniffles Takes a Trip"), and fractured fairy tales ("Cinderella Meets Fella").
Although the discs could have included more early monochrome material (such as "Porky's Hare Hunt," featuring an embryonic Bugs Bunny known as Happy Rabbit) and better annotation, collectors should not pass them up. After all, where else can you find a duck and pig discussing phrenology? "Tell the future by the bumps on your head!" cries Daffy. "But I don't have any bumps!"' stutters Porky. This being Warners, you know the rest. Or should. That's all, folks! 1992
LOONEY TUNES: CURTAIN CALLS
LOONEY TUNES: AFTER DARK
LOONEY TUNES: ASSORTED NUTS
1993 comps. Bugs Bunny, Daffy Duck, Elmer Fudd, Tweety Bird; dir. Chuck Jones, Fritz Freleng, Robert McKimson. Digital mono. CLV. $34.98 ea. Warner.

Hot on the heels of MGM/UA's three-volume, 15-disc Golden Age of Looney Tunes, come Warners' entries in the great cartoon cash-in. Underappreciated in the '60s when Warners closed its animation department, the residents of Toon Town are now big business – if not high art – as baby boomers revel anew in the scwewball antics of Bugs Bunny, Daffy Duck, and Elmer Fudd, the man who constantly warns us, "Be vewy, vewy quiet, I'm hunting wabbits."
Hunts are what the frantic, anything goes Warners shorts are full of – as well as chases, literate gags, puns (an axe-wielding villain says to Bugs that he insists on "splitting hares"), and slapstick violence. The six-minute cartoons were an ode to anarchy that competitors often imitated but rarely equalled. These three discs, part of a new collection of six, come mostly from the '50s and '60s (with a pair of 1980s revival pieces), and they are mostly terrific, with a wit that is as sharp as the colors.
After Dark, Assorted Nuts (showcasing such lesser characters as the daydreaming Ralph Phillips and bulldog Marc' Antony) have their moments, but the standouts are all on Curtain Calls, usually featuring Bugs Bunny, the smart aleck funny rabbit who was the studios' biggest star, a master at puncturing pomposity. Among the best are the brilliant parodies, "The Rabbit of Seville" and "What's Opera, Doc?" in which Elmer and Bugs replay their endless struggle as characters from Wagner's The Ring (Elmer sings "Kill the Wabbit" to the Valkyries' theme).
The disc also includes the wonderful "Three Little Bops," a jazz version of the "Three Little Pigs," with music by Shorty Rogers and singing narration by Stan Freberg; and the parable, "One Froggy Evening," which some consider the perfect cartoon. It's a Twilight Zone-style tale about a singing frog whose timing is all wrong – something you could never say about any of the looney toons who lived at Warners. Tha–tha–that's all folks! 1993
PINOCCHIO
1940. Animated; voices of: Dick Jones, Christian Rub, Cliff Edwards; supervising dir. Ben Sharpstein, Hamilton Luske. Digital sound, 88 min. Walt Disney Home Video.
Video collectors who picked up Pinocchio on its last release in 1986 may feel a little cheated when they see the new, restored version of the Walt Disney classic. Thanks to a frame-by-frame restoration, the colors are richer and the sound (now in a stereo soundalike process) crisper. But the story – about the wooden puppet who wants to be a boy – is just as charming as ever.
Pinocchio, Disney's feature film follow-up to Snow White and the Seven Dwarfs, was based on the tales of Carlo Collodi. Besides winning two Academy Awards (for the lyrical score and the song that became a Disney trademark, "When You Wish Upon A Star") the cartoon served as the inspiration for such later efforts as Beauty and the Beast and Aladdin. The picture is a remarkable technical feat, involving more than 750 artists, 80 musicians, 1500 shades of color, and one million drawings. And the restoration highlights those efforts beautifully: whereas the original video version seems washed out, the new one is vibrant and alive, with a richness of hue and a clarity of sound that make the cartoon characters seem as real as people.
The picaresque saga – about what it means to be human – is also helped by Cliff Edwards' delightful turn as Jiminy Cricket,' some bouncy tunes ("Hi Diddle Dee" and "I've Got No Strings"), and a truly terrifying sequence on Pleasure Island, when a bad boy gets his just desserts. Most kids will love it, although the heavy-handed moralizing may leave some adults longing for the loony anarchy of Donald Duck or Bugs Bunny. That aside, collectors should consider replacing their old Pinocchio with this sleeker version. Without a doubt, the video, like the puppet, has finally come alive. 1993
MICKEY MOUSE: THE BLACK-AND-WHITE YEARS

1993 comp. B&W/Color. Mickey Mouse, Minnie Mouse, Donald Duck, Pluto; dir. var. Digital mono. (NR) 244 min. CAV, 10 sides. Walt Disney.
Fans of Mickey Mouse will delight in this package, a treasure trove of material from the mouse's formative years: 33 black-and-white cartoons, a recently discovered color short produced for the 1932 Academy Awards, the original animated pencil test sequence for "The Mail Pilot" (1933), and over 1,000 story sketches which offer a before and after look at the work of the Walt Disney Studios animators.
Much of the footage in the lavishly produced collection is fascinating, especially in the earliest shorts, in which Mickey is less mouse and more rat: smoking, drinking, and cutting up like any wild youngster as he pulls nasty stunts on cats who try to repress him. Mickey is irrepressible, however: constantly dancing, skipping, and playing a mean piano. It's no wonder the relentlessly cheerful mouse was a big hit in the Depression. His buoyant optimism – he plays a harmonica while working on a chain gang – is infectious.
The shorts are presented chronologically, starting with the first, "Steamboat Willie" in 1928 and concluding with "Mickey's Service Station" in 1935. Most feature the thinnest of plots – "Mickey's Follies" and "Mickey's Revue" are simply excuses for characters to sing and dance – and the majority emphasize music and slapstick over storyline and lack the kind of verbal artistry that later Warner Brothers cartoons would make their trademark.
Still, the animation is delightful and remarkably fluid, and the pictures have been lovingly restored throughout (not a lot could be done with many of the scratchy soundtracks). Marred only slightly by Disney's typical tendency to horde (MGM/UA's similar Golden Age of Looney Tunes features over 70 shorts), Mickey Mouse: The Black-and-White Years is an almost perfect package, ideal for kids and collectors of all ages. 1993
Comedy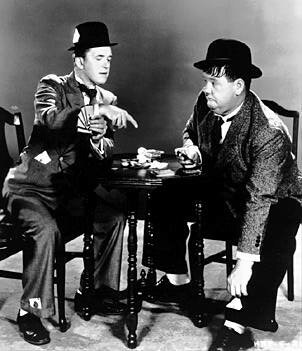 REVIEWS
By TOM SOTER
from VIDEO MAGAZINE, 1991-1996
THE LAUREL & HARDY CLASSIC COLLECTION
1991. Stan Laurel, Oliver Hardy; dir. various. Ten tapes, 60-80 min. ea. $9.98 ea. Video Treasures. If a roller skate was sitting at the top of a stairway, you can be sure Laurel & Hardy would wreck a house with it. And they'd also destroy the viewer -- with laughter.
Hail! Hail! Stan and Ollie are back. The crown princes of chaotic comedy (accidentally blowing up a house in Helpmates), side-splitting non-sequiturs (Laurel to Hardy: "You can lead a horse to water but a pencil must be lead"), and endearing silliness ("What's my temperature?" asks Ollie, not realizing Stan has used a barometer. Stan: "Wet and windy") have returned in The Laurel & Hardy Classic Collection, a 10-tape series which culls most of their best work in handsomely packaged gatefold boxes with extensive liner notes and five minutes of introductory home movies, narrated by Stan's daughter, Lois.
The films run the gamut from 1929 shorts to 1940 features and include some of the duo's greatest bits. There's Stan & Ollie as their own children (Brats) and wives (Twice Two); there's the hilarious odyssey of a piano going up and down (and up and down) 131 steps (the Academy Award-winning Music Box); and there's always Ollie's classic lament, "Here's another fine mess you've gotten me into."
Messes are Laurel & Hardy's specialty, but their well-meaning, almost sweet ineptitude makes them more endearing than contemporaries like the nasty Three Stooges. Stan and Ollie are as close as brothers, as simple as children, and as funny as can be. Don't miss them. But hurry -- for as Ollie says in Sons of the Desert, "To catch a Hardy, you have to get up very early in the morning." (To which Stan, naturally, replies: "What time?"August 1991
BONNIE SCOTLAND
PICK A STAR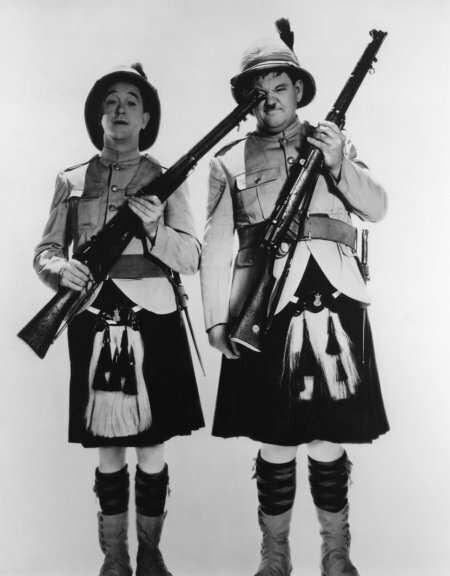 1935/1937. Stan Laurel, Oliver Hardy, Patsy Kelly, Jack Haley; dir. James W. Horne, Edward Sedgwick. 187 min. Digital sound. MGM/UA. As they did in their 105 movies together, Stan and Ollie endure. Their detractors may call them lowbrow, but their supporters are legion – ranging from Marcel Marceau and Alec Guinness to Graham Greene and Johnny Carson. They created character traits that became reassuringly familiar: Stan crying at a babyish high pitch during a crisis, Ollie looking into the camera in exasperation when Stan would do or say something particularly dumb. All these characteristics are in evidence in this "double feature" disc, more a ripoff than a treat, since Pick A Star, the lesser known of the two movies, actually features only 10 minutes of material by the team, which the producers added as box office insurance. No wonder: the story is plodding, Stan and Ollie the only signs of life. That's a pity, since Bonnie Scotland, which includes a charming dance number, amusing dialogue, and great pratfalls, is one of the boys' more delightful feature-length romps as the two travel to Scotland to claim an inheritance. They get it – but only Laurel & Hardy could then end up in India, in the army, running from a flock of bees. To paraphrase Ollie, another nice mess you should get into! 1993
SISTER ACT
1992. Whoopi Goldberg, Maggie Smith, Harvey Keitel, Kathy Najimy; dir. Emile Ardolino. 100 min. Touchstone.
This surprise hit of the summer has all the formula elements of past Disney successes – caricatures in place of people, zany chases, and an uplifting moral lesson – but, surprisingly, it works. Sister Act is a facile charmer, thanks primarily to Whoopi Goldberg's engaging performance as "Sister Mary Clarence," a murder witness on the run who is actually a Las Vegas singer hiding out in a rundown San Francisco convent. Although the idea's been done to death (most recently in Nuns on the Run) the cast, script, and direction bring a welcome freshness to the material. There are heavyweights involved – Harvey Keitel as a slimy gangster, Maggie Smith as a starchy headmistress – but the real standout is newcomer Kathy Najimy as a bubbly nun who considered becoming an airline stewardess before being called by God. The most charming plot twist is to have Whoopi take over as leader of the nuns' choir. Her Las Vegas-style staging of altered Motown tunes ("My Guy" becomes "My God") is infectious. The best gag, however, is a throwaway: when Sister Clarence ducks into a bar and is followed by two other nuns, one of the patrons complains to his pal, "If this becomes a nun's bar, I'm outta here." 1992
REDISCOVERING MYRNA LOY

1992 compilation featuring Penthouse (1933), The Prizefighter and the Lady (1933), Manhattan Melodrama (1934), I Love You Again (1940). Myrna Loy, William Powell, Clark Gable, Warner Baxter,Walter Huston, Max Baer; dir. W.S. Van Dyke II. Digital sound. 6 hours 19 min. CLV, 4 discs, 8 sides. MGM/UA. $99. In her day, she was dubbed the "Perfect Wife" and "The Queen of Hollywood," but today Myrna Loy is best known as the witty spouse of amateur sleuth William Powell in the ever-engaging Thin Man film series of 1934-47. Yet Loy made 60 movies before she ever quipped with Powell – fight pictures, gangster melodramas, screwball comedies, even a turn as Fu Manchu's daughter – and some of that wealth is now available in Rediscovering Myrna Loy, a handsome four-disc set. Three of the four are pre-Thin Man, yet all demonstrate the qualities that brought Loy to the attention of Thin Man director W.S. Van Dyke: beauty, brains, and a charming no-nonsense style as engaging as it is timeless. Loy's personality always shines through, no matter how hokey or varied the material, and Rediscovering is less a collection of the actress's best than a storehouse of historical curiosities: Penthouse (1933), a humorless murder "mystery" with Loy in a familiar early role – the lady as a vamp; The Prizefighter and the Lady (1933), a sudsy love story, with real-life boxer Max Baer demonstrating he could box better than he could act; Manhattan Melodrama (1934), the first of her 13 movies with Powell, a heavy-handed gangster story about two boyhood pals who grow up to be on opposing sides of the law (one is played by Mickey Rooney who later becomes Clark Gable!); and I Love You Again (1940), the best of the lot, a formulaic yet charming screwball farce, in which amnesiac Powell woos and wins Loy in some of the wittiest love-making of its kind. Rediscovering Myrna Loy is a tribute to a show biz legend who was sharp, graceful, and intelligent even when the movies were dopey. In a period when many women were considered icons or bubblebrains, that's no small accomplishment. 1992

HOW TO IRRITATE PEOPLE
1968. John Cleese, Graham Chapman, Michael Palin, Connie Booth; dir. Ian Fordyce; 65 min. $19.95. White Star Video. Monty Python's Flying Circus archivists will be thrilled with this discovery, a little-seen 1968 TV collection of pre-Python Pythonesque sketches featuring John (Minister of Silly Walks) Cleese, Graham (Brian of Nazareth) Chapman, and Michael ("No One Expects the Spanish Inquisition") Palin (the trio is joined by three others, including Connie Booth, the long-suffering Polly of Cleese's later Fawlty Towers). The bits, generally more straightforward and less zany than those on the Flying Circus, are all introduced by host Cleese in the deadpan manner of a typical "How to" guide, appropriately enough, since the point of most of the pieces is to offer "a few' hints on how to help people become more neurotic." The targets include parents who talk while you're trying to watch TV, insufferably polite boyfriends, and groveling waiters. The spots themselves are uneven, ranging from very funny to dull, but there are some amazing curiosities: the prototype for the famous "Dead Parrot" sketch (this time, a man tries to return an obviously faulty car instead of an obviously dead parrot), the first appearance of the shrill Pepperpot-shaped women (played by men in drag), and a weirdly funny job interview sketch that was revived, recast, and redone almost verbatim in the Python show itself. Through it all, Cleese acts as a commentator, mocking the self-help industry with the aplomb of a man who would later transform suppressed rage and passive aggression into a hilarious art form. How to Irritate People may not be top-notch comedy, but it is a wonderful look at genius in the making. 1993
THE RETURN OF THE PINK PANTHER

1975. Peter Sellers, Christopher Plummer, Catherine Schell, Herbert Lom; dir. Blake Edwards. Hi-fi, cc; (G). 113 min. ITC Family Home Entertainment Theatre.
This good-natured live action cartoon returned Peter Sellers to the role of bumbling Inspector Clouseau after a nine-year absence. Released to coincide with the new theatrical Son of the Pink Panther, the older film finds the original Clouseau up to his old tricks: tripping over chords, smashing through tables, doors, and walls, and generally wreaking havoc wherever he goes in shtick that was old when Laurel and Hardy were young. It doesn't matter: Clouseau is a vaudeville comedy classic, who survives despite his mangled pronunciation of English ("I'd like a rheum" "A what?" "A rheum"), his hopeless pomposity, and his incredible ineptitude. Director Blake Edwards has fun staging the bits (which include two different vehicles crashing into a swimming pool and Clouseau struggling with an out-of-control vacuum cleaner), but he has more difficulty with the plot, a knock-off of Hitchcock's To Catch a Thief. Suave Christopher Plummer does do a dandy David Niven impersonation as the jewel thief falsely accused of stealing the famous Pink Panther gem and Herbert Lom is perfect as Clouseau's frustrated superior, but the real question (voiced by Lom) is "How can an idiot be a policeman?" Easy – if you're Peter Sellers, the real, and much missed, jewel of the series 1993
SPLITTING HEIRS
1993. Rick Moranis, Eric Idle, Barbara Hershey, John Cleese; dir. Robert Young. Digital stereo (PG-13) 87 min. MCA Universal Home Video. Monty Python alumnus Eric Idle is the perpetrator of this tired farce, a switched-at-birth black comedy with faint echoes of the brilliant Kind Hearts and Coronets. Idle wrote and stars in it as the protagonist, a befuddled innocent who has been cheated out of his rightful dukedom by brash American Rick Moranis. That's about all anyone but Python fanatics needs to know about the movie, a mechanical exercise in formulaic plotting that collects low-brow sight gags (nymphomaniac Barbara Hershey's jiggling breasts) with lame double-entendres ("They were getting on like a house on fire," says Idle after setting a house on fire). It's sad to see one of the architects of the zany over-the-top Python humor reaching for laughs via exploding houses, careening cars, and manure jokes (Idle jumps off a train and lands, face first, in cow dung). Most of the movie's best comedy is generated by ex-Python John Cleese. As the sleazy lawyer Shadgrind ("We're all a bit mad, aren't we?"), he parlays his Fawlty Towers brand of polite, suppressed rage into some hilarious moments. If Splitting Heirs had focused on him, there might have been a movie to laugh about. 1993
DENNIS THE MENACE


1993. Walter Matthau, Christopher Lloyd, Joan Plowright, Lea Thompson, Mason Gamble; dir. Nick Castle. Digital stereo (PG) 90 min. Warner Home Video. $24.98 .
Kids will love this juvenile comedy, a live action cartoon based on the popular Hank Ketcham comic strip. Dennis is a menace – and an obnoxious one, at that: a five-year-old moppet who never met an object he didn't destroy. The movie is meant to be a high-spirited romp, but it's really a formless mess – a series of violent gags strung together into a loose plot. Besides being misconceived – there is, after all, something wrong with a supposedly charming children's comedy where you feel sorry for the victims – the movie is a predictable bore. Screenwriter John Hughes, known for his teen comedies and the Home Alone flicks, relies heavily on kick-him-in-the-groin jokes and slapstick bits The Three Stooges would have rejected as too low-brow. The cast is adequate – the wonderful Joan Plowright turns up in a thankless supporting part – but the movie has no center. Mason Gamble's Dennis is so charmlessly irritating that you eventually wish he'd just disappear. In fact, there are so few real yucks that you actually begin wondering what kind of parents raised a brat like Dennis? Didn't anyone ever teach them about reform school? Or better yet, prison? 1993
SGT. BILKO
This big-screen reworking of the 1950s TV series You'll Never Get Rich plays like a Saturday Night Live alumni party. Steve Martin is at his outlandish best in the Phil Silvers role of Master Sgt. Ernie Bilko, con man extraordinaire, whose childhood dream was "to run the most sophisticated illegal gaming operation the United States army has ever seen." Other SNL graduates turn up with the regularity of bad sketch comedy: Dan Aykroyd as a dunderhead colonel, Phil Hartman as a slimy villain, and Chris Rock as a computer geek. The movie, which has something to do with revenge, shows how the wild and crazy Bilko and his goofy team of slobs outwit the uptight army. It's a formless hit-or-miss mess affair about greed run amuck, featuring big-budget action gags (explosions, super-destructive pratfalls, etc.), bed-wetting jokes, and a pointless pop rock score (Elvis sings "Viva Las Vegas"). Unlike its TV predecessor, this Bilko bilks the audience. (Nonetheless, the sound and picture transfer are excellent.) (MCA/Universal; 95 min, VHS) August 1996
THE CABLE GUY

This misconceived comedy features Jim Carrey as an over-the-top cable repairman who lives and breathes old TV programming and wants life to evoke My Three Sons (he even calls himself Chip Douglas, one of the sons). Speaking, for no discernible reason, with a lisp, the weirdo cable guy latches onto sad sack nerd Steven Kovacs (Matthew Broderick) as his special friend. From then on, the movie becomes a demented love story and a modern-day Faustian tale, as the innocent Kovacs is swept into a world of violence, sex, and old TV references. When Kovacs wants out, however, the movie turns ugly with spurned "lover" Cable Guy out for revenge. The satirical point seems to be that repeated viewings of TV shows can "rot the mind," but one exposure to The Cable Guy could cause even worse damage. Neither comedy nor drama, the movie does have one in-joke: that any studio would pay Carrey $20 million for this turkey. (Columbia TriStar, 96 min., VHS) 1996
THE NUTTY PROFESSOR
Eddie Murphy delivers a virtuoso performance in this remake of Jerry Lewis's classic 1963 Dr. Jekyll and Mr. Hyde spoof. Murphy plays both Sherman Klump, a 400-pound homely professor who fiddles with science in the pursuit of love, and his alter ego, Buddy Love, the man with the raging super-ego. Love is a nasty parody of Murphy's well-known hip persona (just as Lewis's Love was a savage parody of his ex-partner Dean Martin), and the actor is excellent in both roles, demonstrating a flair for character work not seen since his days on Saturday Night Live. (In a special effects tour-de-force, he also plays all the adult members of his outrageous family.) Murphy is especially touching as the lonely Klump, a proud, clumsy man, who in the end, should become a hero to weight watchers. Indeed, this funny film (unfortunately with an excess of fart jokes) has an uplifting message: accept people for who they are, not for what they seem to be. (MCA/Universal, 96 min, VHS) September 1996
SPY HARD


Fans of The Naked Gun movies should enjoy Spy Hard. Ostensibly a send-up of the James Bond movies, the film is an excuse for the juvenile gagwriters to crowbar in moments from Speed, In the Line of Fire, Home Alone, Butch Cassidy, ET, Pulp Fiction, True Lies, and Sister Act. The thin storyline could have come right out of recent Bonds: super spy Dick Steele (Leslie Nielsen) battles his old nemesis, General Rancor (Andy Griffith?), who is threatening the world with mass destruction. Along the way, there are bad puns, dumb visual gags, and deadpan dialogue poking fun at the idiosyncrasies of spy movies in general and 007 flicks in particular (Steele likes his drink "stirred not beaten"; Weird Al Yankovic sings a 007-style theme song: "He lives for the thrill/Always has places to go, people to kill"). The big question, though, is why bother? Bond movies – almost self-parodies themselves these days – were spoofed long ago, and with much more finesse, by TV's Get Smart. Sorry about that, Dick. (Hollywood Pictures; 81 min, VHS) September 1996
TIN CUP
Ron Shelton is the poet of the underdog, the scribe of the improbable. His biggest hit was Bull Durham, an unlikely story of love and baseball in the minor leagues. That 1988 movie made a star of Kevin Costner as a cynical ballplayer, but neither Shelton nor Costner has been quite as wonderful since. Following the debacle of Waterworld, the star has returned to director/co-writer Shelton and safer ground in Tin Cup. He plays a down-on-his-luck golfing genius who tends to blow success by going his own way – trying to beat the odds – at crucial moments. Costner, with his drawling delivery and piercing stares, is perfect as the none-too-bright golfer, but Rene Russo as his love interest doesn't know how to play a wacky intellectual. Nonetheless, the film is an enjoyably predictable story about risking everything to be your own man. The movie's sentiments may be pure Hollywood, but they are also the key to its offbeat charm. (Warners, 125 min., VHS) 1996
KINGPIN
Take this for a comedy premise: a naive Amish man teams up with a pot-bellied, balding ex-bowling genius who has a hook for a hand to win a million- dollar bowling prize. Cast Randy Quaid as the Amish, Woody Harrelson as the cynical, balding bowler, add in a karate-chopping femme fatale (Vanessa Angel), two hit men, striptease shows involving the Amish, and Bill Murray as a sleazy con man and you've got someone's idea of a hit comedy. Not mine, however. Kingpin is dumb, sentimental, and inept, a throwback to Jerry Lewis at his worst. Kids brought up on Saturday Night Live's in-your-face humor will presumably love the simple-minded gags and cartoon characterizations concocted by writer-directors Peter and Bobby Farrelly, who also ground out the hit Dumb and Dumber. But for the rest of us, there's an important lesson: improbable premises can work – if they're funny. (MGM/UA, 113 min., VHS) 1996
Drama
MOVIE & TV SERIES REVIEWS
By TOM SOTER
from VIDEO MAGAZINE
FAR AND AWAY

1992. Tom Cruise, Nicole Kidman, Robert Prosky, Barbara Babcock, Colm Meaney; dir. Ron Howard. 160 min. MCA/Universal.
Ron Howard's sweeping epic was meant as a tribute to the films of David Lean but comes off more as a homage to TV mini-series like Centennial. Filled with grand imagery and a thin story, Far and Away is as engagingly predictable as a yarn heard' at a Blarney Rock. Tom Cruise acquits himself admirably as a "Mick" named Michael, a headstrong Irish lad who can box better, run faster, and get himself into more scrapes than a fork-tongued presidential candidate. The lassie of his eye is (real-life wife) Nicole Kidman, and their romance is typically rocky – with hate masking love, and tragedy separating them just as they find each other. The story follows two Irish immigrants in their quest for a new life and new land in 19th Century America. Along the way there's humor, sadness, excitement, and an infinite variety of credible locales and incredible plot twists. Breadth does not equal depth, however, and ten minutes after it's over, Far and Away could just as easily be retitled Out of Sight, Out of Mind. 1992
THE GODFATHER TRILOGY
1992 comp. Marlon Brando, Al Pacino, Robert Duvall, James Caan, Robert DeNiro, Diane Keaton, Talia Shire, Andy Garcia; dir. Francis Ford Coppola. 9 hrs, 43 min (5 cassettes). Paramount. The Godfather Family: A Look Inside. Dir. Jeff Werner. 73 min. Paramount (part of The Godfather Trilogy).
Gangster movies come and go, but nothing approaches The Godfather and its progeny. Call it a soap opera with guns, or an ode to the family, or a parable about the corruption of American innocence, but don't call it dull. Director Francis Ford Coppola's mesmerizing tale introduced one telling catchphrase ("An offer he can't refuse") and many colorfully complex characters, topped by Marlon Brando's Oscar-winning comeback role as Vito Corleone, the Don who deals in death, yet loves his family above all else. Family was what drew Coppola to the story, and what made it a resounding hit (the first two pictures won multiple Oscars). But like Michael Corleone (Al Pacino), the son with a conscience who tries in vain to flee his heritage, Coppola has never been able to escape the long shadow of his creation. Eighteen years after the first film, he returned with Part III, which added nothing that hadn't been said before but broadened the canvas of corruption to include the Church and Big Business.
Nonetheless, when taken together in this new 9 1/2 hour re-edit, the entire tale becomes a brooding meditation on the American Dream perverted, as Michael pursues wealth, power, and respectability, only to lose his soul in the process. The saga has a grand stylistic sweep: from the bravura, well-known montages of violence to the intimate moments of humor, love, and sadness that humanize the many nasty characters. There are perhaps few scenes in cinema as touching as Vito's agonized view of the bullet-ridden body of his eldest son, or his choked cry of "Look what they did to my boy!" All of which is a tribute to Coppola's vision, on display in this package's bonus documentary, The Godfather Family, which includes unusual screen tests (Martin Sheen trying out for Michael); behind-the-scenes footage; and interviews with many principals (Coppola reports that the studio initially wanted Ryan O'Neal for Pacino's part and also threatened to hire a "violence director" to punch up the first movie). The Godfather Trilogy is the most epic, yet personal crime story ever made, a multi-layered story that shows how murder can be hidden behind a cloak of respectability and how families can both love and hate each other at the same time. It is a striking cinematic success story, the darkest, bleakest series ever to be a major motion picture success. Don't miss it. 1992
SCENT OF A WOMAN

1992. Al Pacino, Chris O'Donnell; dir. Martin Bregman. 157 min. Digital sound. MCA/Universal.
Al Pacino's bravura performance as blind and bitter Lieutenant Colonel Frank Slade, the soldier with a death wish, foul mouth, and nose for integrity, brought the actor a 1992 Oscar and Scent of A Woman over $57 million in box office grosses. It's not hard to see why: the movie is an engaging odyssey of discovery, as Slade, the curmudgeon who has given up on everyone and everything, meets and spends a Thanksgiving weekend in New York City with Charlie (Chris O'Donnell), a 17-year-old who never gives up on anything or anyone, no matter how difficult. And Slade is difficult: barking insults and threats, he is a blind man with a punch (quite literally), who'd just as soon rip out your throat as let you help – or pity - him. Yet as the story unfolds, Charlie learns to admire and respect Slade, even as he helps the blind man see life in a new way. Scent of a Woman is an effective audience pleaser of the worst sort: shameless in its sentiment, but charming, amusing, and even genuinely moving, with crisp dialogue, engaging performances, and a message about standing up for your beliefs that is admirable and pure Hollywood. There are also two lovely, much talked about set pieces: Slade driving a car at 70 m.p.h. ("Don't blame me," he says about potential accidents, "I can't see"), and the seductive tango scene between Slade and a shy young woman (Gabrielle Anwar). It may be predictable, but it works wonderfully. 1993
SOMMERSBY
1993. Richard Gere, Jodie Foster; dir. Jon Amiel. 114 min.Digital sound. Warner.
This ponderous remake of the French classic The Return of Martin Guerre trades in the intriguing subtleties of the Gallic original for heavy-handed moralizing and a climax that blends A Tale of Two Cities melodrama with Love Story sentimentality. Based on a true incident, both films deal with the return of a soldier years after he left. Everyone notices, yet ignores, changes in his manner: where he used to be cruel, for instance, he is now kind. In both movies, this idyllic situation is shattered by claims that Martin Guerre/Jack Sommersby is an imposter. The original concerned itself with only one question: was Martin Guerre who he said he was? On that was hung a fascinating tale of trust betrayed and love revealed, all stitched together by the winning performance of Gerard Depardieu as the charming man who might be Guerre. The script was so effective that one isn't sure until the very end whodunit – or even why. The makers of Sommersby apparently didn't trust this simple scenario, so in true Hollywood fashion overlayer their remake with plots and counterplots: it's not enough to have Sommersby's identity doubted – screenwriter Nicholas Meyer drags in the Ku Klux Klan, black sharecroppers, a rejected lover, a murder plot, and a noble self-renunciation right out of Dickens. The story isn't helped by a lackluster cast, headed by charmless Richard Gere and wan Jodie Foster as the lame lovers. Sommersby, long on speeches and aimless story, is a windy bore that proves once again that if the original movie ain't broke, you shouldn't try to fix it. Or redo it. 1993
INDECENT PROPOSAL

1993. Robert Redford, Demi Moore, Woody Harrelson; dir. Adrian Lyne. Hi©fi, cc; (R). 119 min. Paramount.
Everyone knows the proposal involved in Adrian Lyne's B&W romantic Faustian fantasy – a million bucks for a night with Demi Moore – but there's more to Indecent Proposal, both good' and bad, than that headline-grabbing gimmick. The story, about one couple's deal with the devil (Robert Redford), takes many predictable turns as it follows a variation on the old formula: boy gets girl, boy loses girl, boy gets girl. The big mystery is which boy? The script, cliche heaven, is full of melodramatic lines ("I was desperate. We stood to lose everything"), sugary imagery (grainy flashback footage of happier days), and mechanical situations. Director Lyne's style alternates between the mundane (talking heads debating plot points) and the arty (slickly edited montages of people, places, and things), while the movie itself is just as schizophrenic: clunky and ponderous, it leads up to a fascinating finale in which both Redford and Woody Harrelson (miscast as a brilliant architect!) make gestures of noble self-sacrifice worthy of Mildred Pierce. Ultimately, however, the problem is not the story but the focus. Although stick figures Moore and Harrelson are the nominal protagonists, Redford's character is so much more intriguing – a melancholy money man in search of his youthful vision of true love – that you soon start rooting for him, hoping to learn more about his story, his life, his dreams. In fact, that might have been a great picture. As it is, the movie is hardly indecent, just half-baked. 1993
ON THE BEACH
1959. Gregory Peck, Ava Gardner, Fred Astaire, Anthony Perkins; dir. Stanley Kramer. Digital mono (NR) 134 min. CLV 2 sides, CAV side 3. MGM/UA Home Video.
Director Stanley Kramer made a name for himself with liberal "problem" pictures – The Defiant Ones explored prejudice but none faced a bigger problem than On the Beach , his heart-wrenching saga about the end of the world. The movie, based on Nevil Shute's novel, depicts the survivors of nuclear war, waiting in Australia for the radiation to drift south and kill them. Unlike most other disaster epics, Kramer's avoids glitzy special effects to focus on the mundane moments of life – feeding a baby, going on a date – that become powerfully poignant because they could be the last time the characters do them. Ever. The cast is effective if occasionally miscast (this being Hollywood, Americans Fred Astaire, Anthony Perkins, and Ava Gardner all turn up with phony Australian accents). Perfect, however, is Gregory Peck as a stolid American submarine commander who – in a moving monologue – can't quite acknowledge that his wife, two kids, and dreams for their future are gone. On the Beach is a bleak tear-jerker with an unrelenting anti-war message. Don't miss it – but bring plenty of hankies. (The movie is presented in an excellent letterboxed transfer, with only occasional film glitches.) 1993
THE FIRM

1993. Tom Cruise, Gene Hackman, Jeanne Tripplehorn, Ed Harris, Holly Hunter; dir. Sydney Pollack. Digital stereo (R). 154 min. Paramount.
The Firm took in $154 million this past summer and it's not hard to see why: the movie is a slick entertainment which plays on the public's inherent distrust of government and lawyers and then has it both ways by letting thehero discover the redemptive power of the law. The subject is corrupt lawyers and an uncaring Big Brother government. But what should play out as a Kafkaesque thriller ends up as just another Mission: Impossible retread as Mitch McDeere, the ambitious young lawyer at the posh Memphis law firm, tries to escape corruption and/or death on the one hand and disgrace and/or disbarment on the other. The excellent supporting cast manages to hold the story together but the overlong thriller has an unsympathetic hole at its center: Cruise, all technique and surface effect. He should have taken lessons from co-star Gene Hackman, whose charming, self©loathing senior partner is a brilliantly drawn portrait in believable shades of gray. Unfortunately, Hackman's moral ambiguity is not reflected in the rest of the tale, which is as cynically manipulative as any partner in The Firm: trust no one, it says, but hey, don't worry, the good guys win out in the end. Ho-hum. 1993
THE MAN WITHOUT A FACE
1993. Mel Gibson, Nick Stahl, Margaret Whitton; dir. Gibson. Hi-fi surround, cc. (PG-13) 115 min. Warner.
Mel Gibson has made a career of playing misanthropes – the suicidal cop in Lethal Weapon, the burned out hero of The Road Warrior – but he's never played the kind of misanthrope he tackles in The Man Without A Face. Although it sounds like something that should star Vincent Price, the movie is actually a touching drama about two unhappy loners: young Charles Norstadt, a misunderstood teen with a dream of going to a top-flight military academy; and Justin McLeod, a facially scarred mystery man who lives in isolation following the mysterious death of a child. Based on a novel by Isabelle Holland and beautifully photographed in Maine, the movie is an expertly crafted exploration of trust, responsibility, and love, a kind of To Sir With Love meets The Phantom of the Opera. As McLeod, Gibson shows that he can play more than a hunk with a handgun and offers a genuinely moving performance as the scarred ex-teacher drawn out of himself by his young pupil (well played by Nick Stahl). Gibson also directed and delivers a satisfying tear-jerker with a worthwhile message: look beyond appearances at a person's soul. It's too bad theatergoers, who largely avoided the movie, didn't look beyond the off-putting title. Now's their chance. 1993
PRIMAL FEAR

In Primal Fear, Richard Gere is at his arrogant best as slick defense attorney Martin Vale, a former prosecutor burned by the system who still believes in the innate goodness of people. Gere may be flashy, but the plot is as grim as an episode of Hill Street Blues (no wonder: director Gregory Hoblit got his start there). The convoluted story, about a young drifter accused of the brutal murder of a kindly archbishop, is a red herring-filled morality tale about the corruption of innocence. The sharp cast delivers the movie's snappy one-liners with conviction ("How can your timing be so good in the courtroom and so bad in real life?"), even though the movie is essentially a darker, '90s version of Perry Mason, right down to an angry courtroom confession. It's all engrossingly predictable. (The tape transfer is excellent; the colors are crisp and the cropping of the picture from widescreen virtually unnoticeable.) (Paramount; 130 min., Dolby Surround; VHS) August 1996
HOMECOMING
Homecoming is heartwarming. Beautifully photographed by Toyomichi Kurita (and excellently reproduced on a crisp, colorful video), this TV-movie features a nice character turn by The Graduate's Anne Bancroft. She plays a crotchety old Maryland widow (where have you gone, Mrs. Robinson?!) who must cope with the unexpected arrival of four grandchildren, aged 6 to 16, whom she had never met – and never wanted to meet – before. The kids are wonderfully diverse and affecting, but it is Bancroft who steals the picture. She has her character down to a t: an enigma who becomes fulfilled through the charming efforts of the lost children. Although as predictable as a Hallmark card, Homecoming is engrossing, amusing, and finally touching, an odyssey of self-discovery that will leave even the hardest hearted balling. (Evergreen, 105 min., VHS) 1996
THE CROW: CITY OF ANGELS

The Crow: City of Angels, the follow-up to The Crow, features different characters but the same comic book conceit: the dead can come back and exact a terrible vengeance on the living. The story is about a brutal specter who seeks punishment on the thugs who killed him and his child. It is set in the post-apocalyptic world that Blade Runner made a necessity for movies of this sort: dark, misty, and gloomy, with shadowy figures lurking among crumbling ruins. An art director's dream and an audience's nightmare, The Crow is humorless, incoherent, and dull, with cliches masquerading as characters and mystical mumbo jumbo posing as dialogue. And the premise – that "love is stronger than death" – is appallingly dishonest. It is not love that propels the hero but violence, vengeance, and viciousness. He is Charles Manson dressed up as a modern-day Messiah, a sadist who, in the end, is ultimately no better than those he kills. For what it's worth, the transfer is sharp and the sound quality excellent. (Dimension, 86 min., VHS) 1996
MARVIN'S ROOM
"I've been so blessed," says Bessie (Diane Keaton) in Marvin's Room. Yet one might wonder how: for 20 years, her life has been spent caring for her bedridden, mentally deteriorating father, Marvin (Hume Cronyn) and her increasingly senile aunt (Gwen Verdon). And now, she has been diagnosed with leukemia, meaning she can only look forward to more suffering and an early death. But that's the wonderful paradox central to Marvin's Room: to some, giving love can be more fulfilling than receiving it. Funny, touching, and lovely, the movie is an ode to familial affection, and justifiably earned Keaton an Academy Award nomination. She is ably supported by Meryl Streep as her selfish, long-estranged sister, Leonard Di Caprio as a disturbed, angry nephew, and Robert De Niro as an eccentric doctor. Mixing humor with pathos, darkness with light, Marvin's Room is a sweetly reaffirming, moving portrayal of people struggling to find what makes life meaningful in the shadow of ever-present death. (Miramax, 98 min., VHS) 1996
IN LOVE AND WAR
The novelist Ernest Hemingway's true-life romance with a pretty American nurse (Sandra Bullock) during World War I is the subject of In Love and War, a vapid tale that makes truth duller than fiction. Supposedly based on a real incident, the movie has the phoniness of soap opera. The casting is one culprit. Hemingway was known for his pugnacious manner and he-man writing, but as played by cocksure Chris O'Donnell, he comes across as a self-involved ass, insensitive to the needs of anyone but himself. Bullock is no better, more catalyst than character, a prop designed to illustrate the movie's thesis: the unhappy end to this affair left young Ernie disillusioned and cynical, destroying the idealistic youth but transforming him into a great writer. There's nothing very tragic about In Love and War, however, except for the way it turns a tale of youthful love into a boring treatise that Hemingway himself would have rejected outright. He had skill. They have not. (New Line Home Video, 113 min., VHS) 1996
LAST DANCE
Last Dance is notable for two reasons: Sharon Stone's affecting Oscar bid as death row inmate Cindy Liggett (it worked for Susan Hayward in I Want to Live) and its status as the second anti-death penalty film within a year (the first was the much-better Dead Man Walking). Unlike its immediate predecessor, Last Dance trades the moral complexities of capital punishment for earnest generalizations: Liggett was a misguided, drugged-out teen when she committed her crime; after 12 years on death row she has changed and is worthy of forgiveness; none of that matters to those in charge since death is about politics and revenge not principle. It's an old song and by the time Cindy is sacrificed to an uncaring system, the movie has clearly made up our minds, changing the character from sinner to saint. Although ably directed by Bruce Beresford (Breaker Morant), Last Dance is nothing more than a touching soap opera of big-screen proportions. (Touchstone; 103 min, VHS) September 1996
THE MIRROR HAS TWO FACES
Homely Rose Morgan (Barbra Streisand) doesn't have much luck with men. Living in the shadows of her glamorous mother (Lauren Bacall) and sister (Mimi Rogers), she takes refuge in teaching romantic literature at Columbia University. There she meets Greg Larkin (Jeff Bridges), a good-looking, nebbishy professor who is searching for a companion of the mind not the bed. After spending months as perfect intellectual friends, they marry – and trouble follows. The idea, based on a French comedy, isn't half bad, and Streisand and Bridges, ably supported by Bacall and George Segal, could very easily be part of a fluffy romantic comedy of the '30s – except that director/star Streisand can't leave well enough alone. The last third of the movie is absurd, as Rose becomes "glamorous," wearing low-cut dresses, silk pajamas, and stiletto heels. There's some point being made about male ideas of sexuality, but that quickly gets lost because Streisand actually seems to buy into it. In the end, this movie does have two faces: sweet romance and pure idiocy. (Tri-Star, 126 min., VHS) 1997
JACK
Robin Williams has made a speciality of playing child-like characters – the alien Mork on Mork and Mindy, Peter Pan in Hook – so it's no surprise that Francis Ford Coppola cast him in Jack. As Jack Powell, Williams plays a 10-year-old child with a strange affliction, a kind of "Leap Year Disease" which causes his body to age at four times the normal rate. Consequently, Jack has the mind of a kid, but all the physical woes of a 40-year-old. With that premise, you might expect another Big, but Coppola is after headier stuff. Although the movie has its share of slapstick and age confusion gags, the story is essentially a bittersweet drama about making the most of your brief time on earth. Williams is fine, but Coppola really has no feel for the material, which is flat, often depressing, and at times downright bizarre. In small roles, Bill Cosby and Fran Drescher liven things up, but it's not enough. Jack is a well-intentioned turn-off. (The transfer is crisp, and the cropping from wide-screen is well-handled.) (Hollywood Pictures; 113 min., VHS) 1997
GRACE OF MY HEART
Grace of My Heart is an affecting, sentimental, but ultimately hollow look at the music business world, circa 1958-1970. Writer-director Allison Anders uses the world of pop tunes as a backdrop for the story of Denise Waverly (Illeana Douglas) who searches for herself while pursuing a dream to write and sing her own songs. In the process, the movie paints a fan's picture of the songwriting profession and the famous Brill Building music "factory," where pop hits were turned out by the pound in the late '50s. The film is populated by engaging caricatures of managers, producers, and stars, with soundalikes for The Beach Boys (here called The Riptides), The Everly Brothers, and The Supremes. Douglas is charming as Waverly, who at first writes about life as an observer but finally makes a personal splash when she experiences tragedy herself. Unfortunately, for all its good intentions and slick production values, Grace of My Heart is just another formulaic biopic, moving at times but about as insightful as an average TV flick. The music is great. (MCA; 118 min., VHS) 1997
Sci-fi/Fantasy
MOVIE & TV SERIES REVIEWS
By TOM SOTER
from VIDEO MAGAZINE, 1991-1996
THE SWARM

1978. Michael Caine, Katharine Ross, Richard Widmark, Richard Chamberlain, Olivia de Havilland, Fred MacMurray, Henry Fonda; dir. Irwin Allen. PG. 156 min. CLV. 3 sides. Warner.
This Irwin (Poseidon Adventure) Allen disaster flick contains more laughs than thrills, as cockney scientist Michael Caine tries to convince an all-star cast that African killer bees should be taken seriously ("Are you telling me," says cranky General Richard Widmark, "that bees killed the men here?"). Naturally, no one believes him, until a plane, a helicopter, a military base, a picnicking family, and Fred MacMurray are all covered in honey. The Swarm is a 1950s B-flick blown up to epic proportions, with plenty of dull action and cheapo special effects, lots of inept soap opera stuff, a pile of priceless bad sci-fi dialogue ("Cardipep might have eased their palpitations"), and a roster of big stars in small parts. The "take the money and run" prize, however, must go to Jose Ferrer, who appears just long enough to say, "Bees can't hurt me" – and then get blown up in a bee-induced nuclear blast. The buzzword, in his case, was cash.1992
THE CRAFT
This well-constructed but predictable horror tale, a parable of how a good girl can be led astray, tells the story of four teenage witches who battle peer cruelty with the powers of darkness. Early magic tricks are treats for the young witches (love spells, hair loss for enemies) but the spells turns lethal when the good girl in the bunch tries to retire. The movie is creepy at times – lots of snakes, rats, and cool special effects – but not particularly scary. Indeed: director Andrew Fleming has modeled much of The Craft on rock videos, with slow-motion camera work, arty editing, and interchangeable pop tunes (there's even an "executive music consultant" listed in the opening credits). In the end, the film is less a tale of terror than a three-card monte game, with cynical producers hoping to cast a spell over angst-ridden teens, angry at their peers and parents but unable to fight back. Witches' brew, anyone? (Columbia/Tri-Star; 109 min, VHS) September 1996
INDEPENDENCE DAY
Independence Day was this summer's sci-fi blockbuster stew of the month: mix in a pinch of X-Files, a smattering of Star Wars, a dollop of E.T. Never mind that the solution comes directly from War of the Worlds, nor that the alien invasion plot seems to have been stitched together by an executive "What'll get us the largest audience?" committee. The concoction is a roller coaster ride of brilliant special effects, tired plotting, and cliches passing for characters: the WASP president who finds courage at the crucial moment; the sassy black pilot who saves the day; the drunken redneck who redeems himself by making the ultimate sacrifice; the brilliant but bitter Jewish scientist who hits upon the ultimate weapon by listening to the rantings of his kvetching dad. (There are the less-than-noble stereotypes, too: Is it a sign of the times that the one openly gay character is killed, while the strong career woman dies in action?) Rousing is the word most often used to describe Independence Day, but I find it dispiriting that so much time, talent, and energy could be applied to something so empty. September 1996
TV Series
MOVIE & TV SERIES REVIEWS
By TOM SOTER
from VIDEO MAGAZINE, 1991-1996
STAR TREK: THE NEXT GENERATION: "ENCOUNTER AT FARPOINT." Patrick Stewart, Jonathan Frakes, LeVar Burton, Wil Wheaton, Michael Dorn, Denise Crosby, Marina Sirtis, Brent Spiner. D: Corey Allen. 1987. 96 min. Paramount, $19.95.


Star Trek, the flop that wouldn't stay dead, is 25 this year. Conceived in 1964 by ex-cop-show writer Gene Roddenberry, the sci-fi series about the U.S.S. Enterprise, a huge spaceship in the 23rd Century, is indestructible: airing only 79 episodes, it nevertheless became a hit in reruns, returning as an Emmy-winning cartoon show; as a six-film, big-budget movie series; and now as Star Trek: The Next Generation, an update that takes place 70 years after the original.
Certainly Roddenberry and his team broke new territory, using the sciencefiction format as an excuse to discuss such TV-taboo topics as racism, women's rights, and peace in our time. In the new series, the producers have attempted to keep Trek's basic appeal, while upgrading the special effects and weeding out the most talked-about flaws (why, for instance, did Captain Kirk and his chief officers always go on the dangerous missions away from the ship? After all, do commanders of aircraft carriers fly the jets?) Times have changed, too: the original's evil aliens, the Klingons, are now savage good guys, while women -- only tokens in the first series -- have key roles.
Yet classic Trek's strongest feature -- its well-written, often witty characters -- is missing from the new program's earliest episodes, as the new crew (a blind helmsman, a humanoid robot, and a psychic psychologist, all led by Captain Picard, a balding, humorless figure) gets its sea legs. Awkward clumps of expository dialogue litter the stories and a lot of the initial programs ("The Naked Now") are simply retreads of superior episodes from the original ("The Naked Time").
Nonetheless, the pilot episode, "Encounter at Farpoint" has enough of its own quirks to hold even a non-Trekkie's interest (Picard's cold demeanor is scary; the computer-man's attempts to be human endearing). As pilots do, a lot of time is spent introducing characters, with a double-length plot that the original series might have disposed of in 30 minutes (an alien tests the crew, with humanity at stake. Ho-hum). The best moment occurs when the old show reaches out and blesses the new in the form of the original's Dr. McCoy (DeForest Kelley), who turns up as a 137-year-old admiral visiting the ship. His comment about the Enterprise is touching ("Treat her like a lady and she'll always bring you home"), although another character's comment is more apt: "I'll learn to do better, sir." About 40 episodes later, they did. Beam me up, Scotty. 1991
THE MAN FROM U.N.C.L.E. COLLECTION
Volume 1: 1964-67. Robert Vaughn, David McCallum, Leo G. Carroll, William Shatner, Leonard Nimoy, Cesar Romero, Joan Collins, Joan Crawford, Angela Lansbury, Kim Darby, Telly Savalas, Nancy Sinatra, Barbara Feldon, and Joan Collins; dir. various. Digital sound, 776 min. CLV, 4 discs, 8 sides. MGM/UA. $100.
Cry UNCLE! Why, oh, why, does MGM/UA go to all the trouble of compiling a mammoth laser disc collection of The Man from U.N.C.L.E. and then select from the worst episodes of the 1964-68 series? In its day, U.N.C.L.E. (that's United Network Command for Law and Enforcement) defined the word phenomena: a near-flop in its first months, it became a monster hit and national fad in its second season. Fan clubs, press attention, TV parodies (Get Smart), imitators (Wild Wild West), and an offshoot (The Girl from U.N.C.L.E.) abounded, but no one could match the original for its deft mixture of humor and suspense. Its heroes – suave Napoleon Solo (Robert Vaughn) and moody Illya Kuryakin (David McCallum) – epitomized the three Cs: Competent, Clever, and Cool. Oh, so cool.
U.N.C.L.E. was a phenomenon in another way – it managed to, in one wag's words, to "snatch defeat from the jaws of victory." When it emphasized silly humor over sly suspense in its last years, the series burned out with such incredible rapidity that it didn't even finish its fourth year. This beautifully transferred laser collection is an apt showcase. The best is seen the least – two wonderful black and white episodes (one featuring a pre–Star Trek William Shatner and Leonard Nimoy) that spotlight the show's strengths: wit, suspense, verve, and such graceful, menacing villains as Cesar Romero in "The Never Never Affair." The worst is in abundance, as well: bad jokes, confusing plotlines, pointless violence, and embarrassments like a Keystone Kops routine in the abysmal "Five Daughters Affair," possibly the series' nadir. In typical fashion, MGM/UA has selected episodes for star power alone. By that measure, this collection is aces. By any other, it's a Disc from D.U.D. 1992
I SPY
1965/1966. Robert Culp, Bill Cosby, Gene Hackman, Carroll O'Connor; dir. Richard Sarafian, Earl Bellamy, Robert Butler. Two tapes, 100 min. each; $19.95 each. United American Video.
Long before Dr. Cliff Huxtable and those Jello commercials made Bill Cosby a multi-millionaire, he was appearing as
Alexander Scott, partner to Kelly Robinson (Robert Culp) in the groundbreaking spy series I Spy. The show, about two globe-trotting CIA men, is unique among the 1960s crop of James Bond TV clones: it was actually filmed in the foreign locations the agents visited and it paired a black and a white man as equal partners. Besides that, the series is appealing for its fast-paced action and clever stories, and the easy rapport and insolent cool of Culp and Cosby, who often improvised their rambling exchanges. "Life is good," says Culp in one. "It's better than that, man," replies Cosby. "On a day like today there's a wonderfulness from the sky and the sea and the people that kisses you all over the neck and nose." Culp: "Name another day when such a report to the Pentagon was written by two fine American spies." The four episodes represented here, primarily from the series' first season, are hardly representative of the show's humor and clever plotting or even its globe-hopping, since three take place in Mexico. Nonetheless, there are intrigue, beautiful photography, the snazzy "I Spy" theme tune, and the chance – "It's All Done With Mirrors" – to see Archie Bunker (Carroll O'Connor) as a Communist agent. Now that's a trip, man. 1993
Three Reviews
Gaslight
B&W. 1944. Charles Boyer, Ingrid Bergman, Joseph Cotten; dir. George Cukor. 114 min. Beta, VHS. MGMIUA.
From the opening "I don't know much about you, but I love you" to the closing "I hate you," Gaslight is a predictable, entertaining Grand Guignol melodrama which confronts not-so-weighty questions:
Is newlywed Ingrid Bergman crazy? Or is husband Charles Boyer trying to make her that way?
The story is adapted from a 1930s stage play by Patrick Hamilton and often betrays its "well-made play" origins – the whole enterprise is stagebound and talky. But it is saved by performances and atmosphere, from Bergman's sexy, bewildered innocent and Boyer's nice-guy villain to Dame May Whitty's talkative busybody and Angela Lansbury's sultry maid. The most curious casting finds American Joseph Cotten as a relentless Scotland Yard inspector; in the original play (and in the 1939 British film version), the role was played by an older man, but MGM hoped to increase the movie's matinee value by hinting at a romance between Cotten and Bergman.
Gaslight is convoluted and overlong in the best penny-dreadful tradition and includes foggy streets, creepy sounds in a boarded-up room, and dark looks from the mysterious Boyer. The earlier British version of 1939 (reportedly destroyed by Metro but still extant) is better, but audiences ate this one up and Bergman earned the first of three Academy Awards for her breathless part. If the tale ultimately lacks emotional punch, it's not because she doesn't try. And she is lovely to look at.
The VHS transfer is also lovely, in crisp black & white, and the sounds of hansom cabs and screams in the night are all too audible.
Surfacing
Color. 1980. Joseph Bottoms, Kathleen Beller, R.H. Thompson, Margaret Dragu; dir. Claude Jutra. 90 min. VCL/Media
This Canadian film of Margaret Atwood's novel of a woman searching for her spiritual identity (and missing father) in the wilderness is a confused hodgepodge of genres; nature film, mystery story, feminist adventure. The movie is well-intentioned and Atwood does have something to say, but you wouldn't know it from this effort. It is crippled by stereotyped characters, bad performances, and dialogue that is either mundane or ridiculously upfront ("I'm trying to face up to myself. It's always what you want when you want it") Apart from some intense moments – a Deliverance-style confrontation with two hunters and a near-rape scene – Surfacing is a mess.
The Evil that Men Do
Color. 1984. Charles Bronson, dir. J. Lee Thompson. 91 min. Beta, RCA/Columbia.
Bronson fans will enjoy this no-holds-barred violence feast, a kind of Death Wish International. The monosyllabic Bronson takes on a South American killer known as Le Doctor who likes to use electricity and nails (among other things) to mutilate his victims. Bronson has the moral high ground since every one of his foes is some kind of deviant, from wife-swapper and lesbian to simple sadist. He kills so efficiently, however, that the only real suspense occurs when he has to deliver a line. The transfer is excellent, with rich color – but you do get tired of so much red after a while.
VIDEO MAGAZINE, MAY 1985