You are hereMovies / Laurel & Hardy
Laurel & Hardy
---


from DlVERSlON • JANUARY 1994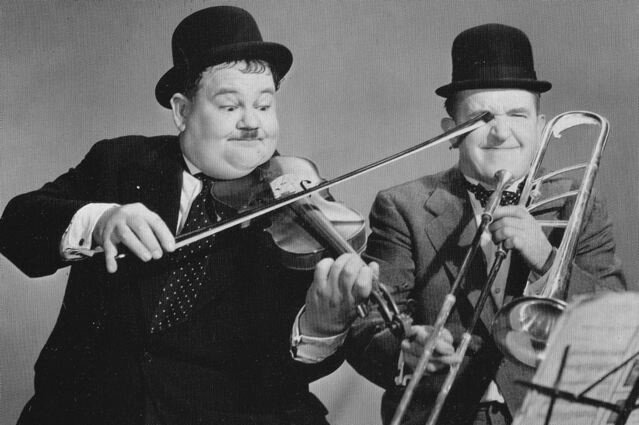 In the 1938 film Block-Heads, Stan Laurel and Oliver Hardy play war buddies who haven't seen each other in 20 years. When they meet, Stan is in a wheelchair he's found, with one leg tucked comfortably beneath him. When Ollie sees his old friend, he thinks he's lost a leg. The wheelchair's real owner arrives, and Ollie graciously offers to carry Stan. After huffing and puffing for what seems an eternity, the fat man finally notices his mistake. He does a double take, then says, "Why didn't you tell me you had two legs?"
"You didn't ask me." As Ollie whacks him, Stan mutters to himself, "Well, I've always had them."
Welcome to the world of Laurel and Hardy. If misunderstandings are the food and drink of comedy, then Stan and Ollie are the grand chefs. Who else would get jobs in a horn factory testing horns (Saps at Sea, 1940) or trade a barbershop for a gold-colored brick labeled GOLD (Oliver the Eighth, 1934)? What other actors would dare to play their own children (Brats, 1930), brothers (Our Relations, 1936), and wives (Twice Two, 1933)? And who but Laurel and Hardy could build a 30-minute Academy Award-winning film out of a single incident: carrying a piano up 131 steps?
Partners in Comedy
Sixty-two years after that Oscar-winning short, The Music Box, Stan and Ollie still reign as the crown princes of chaotic comedy. Their detractors may call them lowbrow, but their supporters are legion, ranging from the Sons of the Desert, an international appreciation society, to such fans as Marcel Marceau. Fellow comic Lou Costello called them "the funniest comedy team in the world." To define what makes them so popular is, really, to define humor itself: "They made the world laugh," said Danny Kaye when presenting a special Academy Award to Laurel in 1960, "because in them, we kind of saw ourselves: ridiculous, frustrated, up to our necks in trouble but nevertheless ourselves."
Indeed, Laurel and Hardy were the everymen who influenced generations of comedians: from the nitwit schemes-and enduring friendship-of Jackie Gleason and Art Carney on "The Honeymooners" to the pratfalls of Dick Van Dyke and the spaced-out innocence of Chevy Chase. Before Hardy, fat men were comic villains; without him, where would the affable actor John Goodman be?
"They knew how to slide over a banana peel, how to make reality absurd," wrote Marcel Marceau in an introduction to the picture book Laurel & Hardy. "They are the black and white of life. They evoke our own absurdities, which make us laugh instead of cry; they remind us that if life is a tragedy for men who think, it is a comedy for those who feel."
Vaudeville Origins
Stan Laurel was born in England in 1890, the son of a vaudeville theater operator and sometime playwright. He made his acting debut in 1906 in a touring production of Sleeping Beauty and soon emigrated to the United States, where he played vaudeville from 1914 to 1922 (at one point sharing a bill with Charlie Chaplin). He drifted into films in 1917, writing gags, directing shorts, and appearing in over 60 movies. He played everything from a brash lover to a dimwitted servant; yet, as one observer noted, "He was one of the unfunniest comedians around."
What changed him was Oliver Norvell Hardy. Known to everyone as Babe (reportedly because of his baby face), Hardy was born in Georgia in 1892. He hoped to become an attorney, but ended up as a theater operator. Like Laurel, he fell into movies, appearing in some 100 comedies between 1914 and 1917, usually as the heavy. He first met Laurel while playing a villain in The Lucky Dog (1919), but it wasn't until Duck Soup (1927) that the two became a bona fide team.

It was a happenstance pairing, one of many that occurred at the Hal Roach Studio, where the duo made its greatest films. Although Laurel was wary-he saw himself primarily as a director and gag writer-Hardy, studio boss Hal Roach, and director Leo McCarey embraced the union. "They seemed to fit so well together," remarked McCarey, " ... not only because they were such contrasting figures but also because they seemed to have this solid instinct that only topflight comedians have of the reality underlying a gag."
Begun in the era of silent films, the partnership was initially built on physical humor but later relied on character. Stan, the skinny one with the look of a lost child, was dumb ("I heard the ocean's infatuated with sharks," he remarked in The Live Ghost, 1934), while Ollie, the fat man with the self-important air, was smart ... but not really ("Not infatuated-he means infuriated!"). The team created character traits that became reassuringly familiar. Stan would cry in a babyish high pitch during a crisis, and he could also perform bizarre feats of magic, such as igniting his thumb in Way Out West (1937) or making a pipe out of his hand in Block-Heads. Ollie did a "tie-twiddle" routine (he would wiggle his tie in a flutter, laughing nervously at the same time) when one of them made a faux pas, and he was frequently found looking into the camera in exasperation when Stan did or said something particularly stupid.
The duo always tried to help each other, yet they always botched things up. In the brilliantly inventive Helpmates (1932), for instance, they simultaneously wreck and clean Ollie's house before the arrival of his bossy wife (a typically domineering shrew). Ollie leaves Stan alone near the end, and when he returns, his home has burned down-except for a door, its frame, and an overstuffed chair. Stan weeps guiltily, but Ollie sits down, resigned. "Well," Stan observes with deadpan understatement, "I guess there's nothing else I can do."
Stan may be dumb ("You can't turn blood into a stone," he remarks in a typically mangled aphorism from 1934's March of the Wooden Soldiers), but it is Ollie who always bears the brunt of his stupidity. It is, after all, Ollie who pours milk in his own ear when Stan hands him a glass of milk instead of the phone receiver ("Excuse me, please, my ear is full of milk," he says calmly) in Going Bye-Bye! (1934). And it is Ollie who puts his head through a drawer, slips on a rolling pin, falls off the roof, and blows himself up. "In submitting endlessly to disaster," wrote movie critic David Thomson, author of A Biographical Dictionary of Film, "he took upon himself the mantle of suffering that has always earned more laughs than haplessness. The belly laughs of Laurel and Hardy movies usually greet Hardy, or more precisely his being confounded by Laurel's simpleton destructiveness. Their films indicate that presence is sometimes as creative as ideas."



In fact, Laurel and Hardy would not be as endearing if they did not have that strong, sympathetic presence. Their pratfalls may have been legion, but their hearts were always pure. "Once in a while, someone will ask me where Stan and I dreamed up the characters we play in the movies," remarked Hardy in 1954. "They seem to think that these two fellows aren't like anybody else. I know they're dumber than anybody else, but there are plenty of Laurels and Hardys in the world .... The dumb, dumb guy who never has anything bad happen to him and the smart, smart guy who's dumber than the dumb guy, only he doesn't know it."
Gift of Gag
In real life, though, Laurel and Hardy was a smoothly running operation, able to take a five-page outline and improvise highly constructed gags that were shot in one take. "Gags developed as we were working," recalled director George Marshall. "We did have a script," offered Laurel in 1959, "but it didn't consist of the routines and gags. It outlined the basic story idea and was just a plan for us to follow."
Nonetheless, a lot of thought was given to what would happen. Working with a team of "gag men" at his home and on the set, Laurel was the genius behind the twosome, supervising the directing and editing, and also crafting the scripts. Those stories place the men in some bizarre situations: as mousetrap salesmen in Switzerland (Stan to Ollie in Swiss Miss, 1938: "I thought there'd be more mice here than anywhere .... Don't they make more cheese here?"); as sawmill workers who slice their own car in half (Busy Bodies, 1933); as a phony master and two servants (Stan plays both maid and butler to Ollie's millionaire in Another Fine Mess, 1930); and as Foreign Legionnaires trying to forget a woman (The Flying Deuces, 1939, in which Ollie is dissuaded from suicide when a Foreign Legionnaire remarks, "There are plenty more fish in the sea," to which Stan replies, "He's not in love with a fish!").
It was a creative paradise, but it didn't last. "We should have stayed in the short-film category," Laurel said. "We do best when we use a simple basic story and then work out all the comedy that's there .... We didn't want to go into feature films in the first place."

The men abandoned their successful 20-minute shorts in the mid1930s to make longer, more meandering tales. Their real decline came, however, when they left the nurturing arms of the Hal Roach Studio. Moving to Twentieth Century Fox and MGM in search of greater freedom, they instead found creative hell. Forced to rehash old material or perform feeble jokes, they soon quit in disgust and turned, instead, to the stage. They successfully toured England in the 1950s.
Hardy, who was married twice, died in 1957, while Laurel, who had four wives, died in 1965. They were friends to the end, as true to each other in life as they had been onscreen. "Laurel and Hardy was really a love story-one of the greatest there ever was," remarked Dick Van Dyke, who delivered the eulogy at Laurel's funeral. "I think the basis for their longevity in films was that they obviously loved each other very much."
Although both the cinematic and real worlds could batter them down, shatter their hopes, and destroy their schemes, they never gave up. As long as they had each other, they could turn adversity into pleasure simply by breaking into the silly, amazingly poignant dances found in many of their movies.
"Good-bye, Ollie!" cries a weeping Laurel when he is about to be executed at the conclusion of Bonnie Scotland (1935).
"Good-bye, Stannie! I'll see you later!" Hardy calls out.
"I'll be waitin' for you when you get to heaven!"
"How will I know you?"
''I'll be waitin' at the gate and I'll have on wings and a harp in me hand!"
"Well, so will all the rest of the angels!"
"I'll keep me hat on; then you'll know me!"
No matter what happens, everyone will always know Laurel and Hardy.
SONS OF THE DESERT
Not long before Stan Laurel's death, his biographer, John McCabe, approached the comic with the idea of a Laurel and Hardy appreciation society. Dubbed Sons of the Desert (after the lodge that Stan and Ollie belong to in that film), the group is organized into local branches known as Tents, which are named after Laurel and Hardy movies. The group, with more than 100 Tents worldwide, organizes annual conventions to screen films, exchange information, and practice high jinks. According to McCabe, the organization is "devoted to serving serious purposes in a highly unserious way." Its Laurelpenned motto is "Two minds without a single thought." For more information contact Sons of the Desert; Box 1358; Brookline, MA 02146

MORE STAN AND OLLIE
SHORT FILMS
On tape, the best source for shorts is Video Treasures' "Laurel and Hardy Classic Collection," ten tapes ($9.95 each) with three or four 20- or 30-minute shorts apiece. Video Yesteryear has issued four compilations ($24.95 each) of Laurel's silent, solo material called "Stan Without Ollie," as well as "A Few Moments with Buster Keaton and Laurel & Hardy" ($9.95), featuring the only color short the team ever did. MGM/UA Home Video has released a 1965 documentary, Laurel and Hardy's Laughing 20's ($19.95), with excerpts from their silent work. Cabin Fever's 18 colorized classics on video include Men 0' War, Brats, and Another Fine Mess ($9.95 each).
FEATURES
Pack Up Your Troubles (1932). In the team's second feature, Stan and Ollie search for the father of a deceased army buddy named Eddie Smith so they can deliver his orphaned child to the family. There are some great gags, such as when the two go through the phone book asking hundreds of Smiths, "Are you Eddie's father?" (Video Treasures, $9.95).
Sons of the Desert (1933). This movie has terrific physical gags, some sidesplitting non sequiturs (Stan to Ollie: "You can lead a horse to water but a pencil must be lead"), and endearing silliness ("What's my temperature?" asks Ollie, not realizing Stan has used a barometer. Stan: "Wet and windy"). Widely considered their best feature (Video Treasures, $9.95).
The Devil's Brother (1933). The comedy team's reworking of the classic operetta Fra Diavolo (MGM/UA, $19.95).
March of the Wooden Soldiers (1934). A personal favorite of Laurel's, this fable (originally titled Babes in Toyland) is perhaps the team's most popular picture. Colorized (GoodTimes, $19.95).
Bonnie Scotland (1935). Some charming dance numbers highlight an uneven tale in which Stan and Ollie go to Scotland to claim an inheritance but end up in India (MGM/UA, $19.95).
Pick a Star (1937). A cameo appearance (MGM/UA, $19.95).
Way Out West (1937). One of their best, as the team goes west. Colorized (Video Treasures, $9.95).
Swiss Miss (1938). This film includes a charming lover's serenade, as Ollie sings "Let Me Call You Sweetheart" while Stan accompanies him on a tuba (Video Treasures, $9.95).
The Flying Deuces (1939). Stan and Ollie in the Foreign Legion. Don't miss the classic fade-out (GoodTimes, $14.95).
A Chump at Oxford (1940). This is the film that Graham Greene said was "more agreeable than Chaplin's; their clowning is purer; they aren't out to better an unbetterable world; they've never wanted to play Hamlet" (Video Treasures, $9.95).
Saps at Sea (1940). Stan to Ollie: "You can fool the doctor some of the time, but you can't fool the doctor part of the time, because you'd only be fooling yourself all of the time" (Video Treasures, $9.95).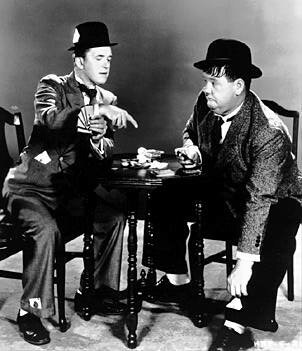 Great Guns (1941). One of their dreadful last nine films, over which they had no say (CBS/Fox, $29.98).
Air Raid Wardens (1943). Bad (MGM/UA, $19.95).
Nothing but Trouble (1944). Worse (MGM/UA, $19.95).
The Bullfighters (1945). Not bad but not top-notch (CBS/Fox, $29.98).
Utopia (1952). Stan was sick at the time this French-Italian coproduction was made, and he looks terrible. The boys try hard, but it is a sorry fade-out on a lovely duo (Video Yesteryear, $29.95).
BOOKS
The best biography of the team is Randy Skretvedt's Laurel and Hardy: The Magic Behind the Movies (Moonstone Press, $14.95). John McCabe's Mr. Laurel and Mr. Hardy (Plume, $7.95), written with the cooperation of Stan Laurel, has some interesting insights as well.